The Golden Door
October 31, 2020 – January 16, 2021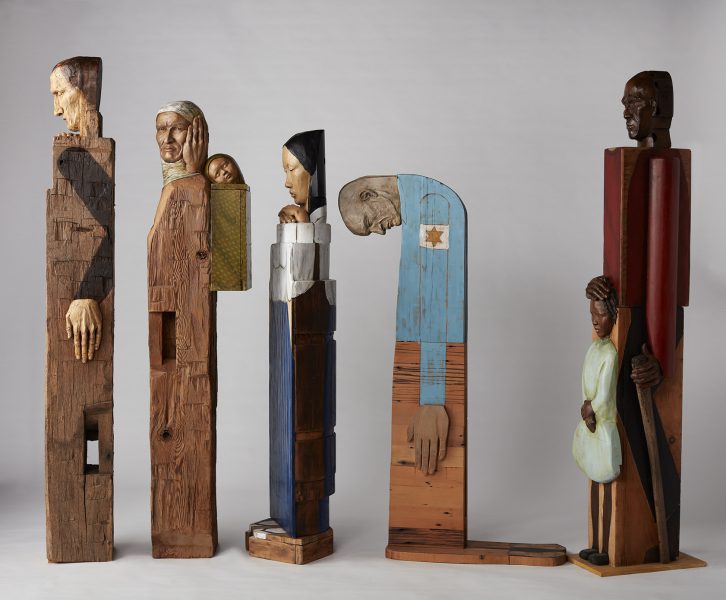 The Golden Door Exhibition examines the complex histories and cultural identities that define and enrich contemporary America. "I lift my lamp beside the golden door!" is the closing line of Emma Lazarus's poem engraved on the Statue of Liberty's plaque welcoming newcomers to the U.S. The sonnet includes the iconic lines "Give me your tired, your poor / Your huddled masses yearning to breathe free". How that language is understood in today's political and social climate is as varied as the diverse works of art on view.
The Golden Door will illuminate personal and collective experience while also exploring the concept of displacement, the deep divides of our history as a nation, and the enduring idea of the American dream. Viewers will find unexpected materials and forms and an astonishing range of approaches: personal, conceptual, and cautionary.
The eleven artists exploring this theme are Lois Bielefeld and Nirmal Raja working collaboratively; Eric Chiang; Susan Clinard; Mohamed Hafez; Ana Maria Hernando; Shantell Martin; Debra Priestly; Rick Shaefer, Sofie Swann, and Taro Takizawa.
Previous Banner Image- Rick Shaefer, The New Colossus
Image this page- Susan Clinard, History Repeats Itself